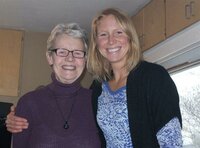 Mabel Ann Johnson
It is with great sadness that we share the passing of Mabel Ann Johnson, longtime resident of Valhalla Center, Alberta, on January 17, 2022, four days short of her 97th birthday.
Mabel was born January 21, 1925 at Kleskun Hills to Marquis and Margaret Jones. When she was five years old, they moved to Brainard where she was raised on a farm with her nine siblings. She went to school at Sinclair Lake. As a child, she enjoyed working outside with her Daddy and reading to her younger siblings from the "Free Press".
Mabel and her husband Marvin Johnson farmed at Valhalla for 46 years and lived on their farm for another 28 years after they retired. Never afraid to get her hands dirty, Mabel worked outside with Marvin clearing the land, feeding and looking after animals, hauling grain, driving tractor and whatever else needed to be done on the farm. She was also an avid gardener who grew enough vegetables for all her family and some of her neighbors. Mabel was a great cook and baker who always welcomed people in for a meal or at least coffee and homemade cookies or cinnamon buns. She always took time to bake each of her kids' favorite cake, cookie, candy or pie. She shared her cooking and baking in the community as well, donating food to the Valhalla Woman's Institute functions and other local events. Mabel worked as a cook at the Hythe Pioneer home for ten years.
Mabel always seemed to have boundless energy as she not only did everything expected of a farm wife but took time to enjoy talking and reading to her kids. She pursued many hobbies, and shared her love of knitting, sewing, quilting and oil painting with her daughters. Her kids' homes are filled with specially crafted gifts and paintings that she made for each of them. Mom also enjoyed reading, doing puzzles, walking and cross-country skiing. She worked hard at keeping herself both mentally and physically fit. Mabel was a member of the Valhalla Women's Institute for 73 years, where she won many prizes for her handicrafts.
Her family and family gatherings were everything to Mabel. She will be sadly missed by her children: Shirley Steinke, Harvey (Marilyn) Johnson, Dennis (Linda) Johnson, Connie (Kelly) Mitchell, Raymond (Margaret) Johnson, June Saastad as well as her brother, Edward (Lorna) Jones, sisters-in-law Rita Jones and Nellie Cundict, 17 grandchildren, 23 great-grandchildren and 10 great-great-grandchildren. She was predeceased by her husband, Marvin Johnson, daughter, Elsie Greber, son-in-law, Wade Saastad, great-grandson, Riley Mayer as well as her parents and 8 siblings.
A memorial service will be held at a later date.
Very Respectfully, Beaverlodge Funeral Service.