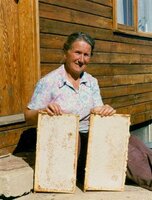 Justice Charanne Fawn Kent
It is with the deepest regret that we announce the sudden passing of Justice Kent, a life long resident of Horse Lake, Alberta.
Justice Charanne Fawn Kent known as "Jacey" and "J" was born at 6:07 am on December 26, 1995 in Beaverlodge Alberta. Where she suddenly passed on August 16, 2020 in Horse Lake, Alberta at the age of 24 years old. She was always able to light up the room with her smile the moment she walked in. She was beyond confident as well she should have been, and we all know she would agree that she is the best looking one out of all of us. Justice would always post a few selfies that she liked and make comments such as "Just blessing your timeline" – "Just incase you forgot how I looked, here I am." – "I should work for NASA because, I'm a star" and the list could go on. But I mean who can blame her right? She had beautiful skin, amazing style, gorgeous brown eyes and a beautiful smile.
Justice will be fondly remembered by her parents, Katherine and Mervin, her siblings include Mercedes and husband David, Karianna and partner Brandon, Serenity, Aqua, Ashton, Joshua and Zuri. She was a proud aunt to her only niece Elizabeth. Her grandparents include "Big" Jim Horseman, Douglas and Karen Kent, Violet Cardinal, as well as Lumberjack, and numerous aunts, uncles, and cousins. She came from a family of 10, and she was the second oldest. In her family it included one older sister and 6 younger siblings. She always referred to her parent's 4 biological daughters as the "Fantastic Four" however, she loved all of her siblings unconditionally. She was predeceased by her maternal grandmothers Vivian Wanihandi and Delia Horseman, maternal grandfather Lewis Norman, brother Freedom Gladue, cousin Benji Wanihandi, uncle Nelson Wanihandi and numerous cousins.
Justice was the type of person who could feel someone's bad vibes and she would point it out. She would not hesitate to tell you how she truly felt especially when it came to someone speaking about her family. Even though she wasn't the oldest, she made sure that her siblings were all, all protected. She knew who her family truly was and who was just there. She knew that she could just call one of us, especially her mother and she would go to the end of the world to protect her.
We will always love you,
Mom, Dad and siblings
Due to current restirictions, a private family service was held at th Lymburn Community hall on August 22, 2020. Pastor Jack Parker officiated. Justice will be laid to rest with family in the Grande Prairie City Cemetary at a later date.
Very Respectfully Reynars Funeral Home & Crematorium