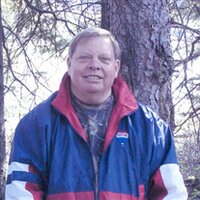 Arnold Van Eaton
Arnold Van Eaton, a long time resident of Hythe, Alberta passed away peacefully in the Grande Prairie hospital on Monday, May 25 at the age of 85 years.
Arnold was born on January 24, 1935 in Haynes, Alberta. Arnold was a talented man who shared knowledge with those around him. He was an outdoorsman who loved to hunt, trap, and fish. He had productive hands, and used his time to keep bees, create masterful woodworking, and farm. In his twenties, he worked in California as a heavy-duty machine operator and in the Oregon lumber industry. In his forties, his love of Alberta brought him back where he continued farming. Arnold was fulfilled by growing many types of plants. The property that he kept in Hythe with his wife Gladys, was a local treasure, and had dozens of varieties of trees and shrubs that supplied a bounty each year that was canned and shared with family and friends.
Much like the barley that Arnold grew, which started as a small handful of seeds that multiplied under his careful attention through the years, his family thrived with such a strong and unwavering father. Arnold showed us how to live. Now is our time to carry on alone.
Arnold leaves to mourn his loss his children; Sandra (Grant) Miller of Hythe, Alberta, Rick Van Eaton of Hythe, Alberta, and Roger (Shelley) Van Eaton of Surrey, BC as well as 7 grandchildren, 13 great grandchildren as well as many friends.
Arnold was predeceased by his beloved wife, Gladys, in 2017.
Arnold will be sadly missed but forever remembered and cherished in the hearts of his family and dear friends.
A celebration of life will be announced at a later date.
Very Respectfully Beaverlodge Funeral Service