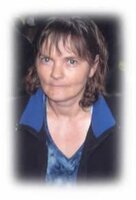 Ilene Herle
Ilene Herle, a resident of Beaverlodge, Alberta, passed away on Wednesday, January 15, 2020 in Beaverlodge at the age of 66 years.
Ilene was born on October 1, 1953, the third child to Ken and Mary Brogden. She lived her younger years in and around Cutknife, SK, then venturing out into the world settling in BC. Ilene went back to Battleford, SK in 1989 with her five children: Cinda (Jeremy) Horrell, Charmain (Chris) Mota, LeLanna Harrison, Daniel (Dawn) Johnson, and Nathan Johnson. Eventually Ilene met her prince, Larry Herle, and they were married on September 13, 1991. She became a stepmother to four more children, Rob, Chad, Trina, and Teresa.
Ilene is fondly remembered for her love of flowers, gardening, and Neopets.
Ilene is survived by her siblings; Rod (Jackie) Brogden, Gale (Rick) Jarrett, and Ross (Betty) Brogden, her husband Larry, their children and grandchildren.
A Celebration of Ilene's Life will be held on Saturday, May 9, 2020 at 1:30 PM at the Historic Battleford Lions Club, Battleford, SK. Interment will be held at a later date.
Very Respectfully Beaverlodge Funeral Service