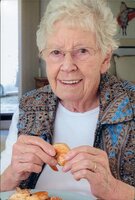 Joyce "Toots" Staggs
Joyce (Toots) Alene Staggs of Hythe, Alberta passed away at the age of 91 years on Saturday, October 26, 2019 with her family by her side in Grande Prairie, Alberta. Toots is survived by her children: Merwa (Ray) Howatt, Grace (Sam) Wideman, Sheila Staggs, Gene (Doris) Staggs, Cyndy (Ken) Halbert, Chad (Michele) Staggs, and Patti (Randy) Nichol, nineteen grandchildren and twenty-two great grandchildren, her sister Gloria Olson and many nieces and nephews who loved her dearly. Toots was predeceased by her husband of 62 years, Merv Staggs, her mother, Evelyn Armstrong, her dad, Edward Armstrong, her sisters, Eula Weller and Verna Kyle, and her brothers, Dan Armstrong and David Armstrong.
Toots was born on November 4, 1927 to Ed and Evelyn Armstrong. She grew up in Hythe and loved to ride her horse, Paint. They would meet up with Beth Elgie and then they would ride into Hythe to visit with the Bain family. Paint would jump every fence there was just so she could eat. Toots went to the Gimle School starting in Grade 1 and then went to Hythe High School. She supervised correspondence students at the school in the Independent Valley/Tupper area. While there and boarding with the Sullivan family, she met their nephew and the love of her life, Mervyn Staggs, and they were married on August 27, 1949.
Toots was always busy in the kitchen, the garden, the field, and wherever else she was needed, helping to run the day to day operations of the farm, the trucking company, the bison ranch and of course, the family. She enjoyed playing ball, bowling, playing cards, square dancing, showing horses, sewing, quilting, and camping. Toots spent many hours with her family on the road traveling to horse shows across Alberta, B.C., and into the United States. Community was very important to her, and she was a loyal volunteer to many organizations in the Peace country.
Toots enjoyed spending time with her family, neighbours and friends. Her easy going and loving nature made her an incredible role model and friend. She was ready to laugh, even if it was at herself. Toots loved life, regardless of where it took her. She was accepting, courageous, and compassionate. To know our mom was to love her. Her kindness and smile have contributed to many happy memories in our lives.
A Celebration of Toots' Life was held on Saturday, November 9, 2019 at 1:00 PM at the Hythe Royal Canadian Legion Hall, Branch 93. A private family interment was held in the Hythe Cemetery where Toots will be laid to rest with her beloved husband, Merv.
For friends so wishing, donations may be made in memory of Toots to the Grande Prairie Care Centre Rec Department, 9705-94 Ave, Grande Prairie, AB T8V 3A2, or to the Grande Prairie Palliative Care Society, Unit 204, 10134-97 Ave Unit 206, Grande Prairie, AB T8V 7X6, or to the Beaverlodge Hospital Foundation, Box 480, Beaverlodge, AB T0H 0C0.
Very Respectfully Beaverlodge Funeral Service