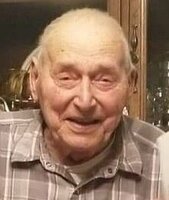 Len Hoglund
Len Hoglund, a long time resident of Elmworth, Alberta, passed away with family by his side on Tuesday, October 16, 2018 in Grande Prairie, Alberta at the age of 73 years.
He was predeceased by his mother; Agatha and father; Hilgard, sisters; Joyce & Lorna and brothers; Richard & Doug.
Len is survived by the love of his life; Bev, children; Robyn & Mike (Tammy), brother; Kenn (Sandra), sisters; Darlene & Lois (Allan), grandchildren; Harmony, Cade, Destiny, Adrianne & Jared, Bev's two brothers and two sisters, as well as many nieces, nephews, cousins and "coffee" friends.
A Celebration of Len's life will be held on Saturday, October 27, 2018 at 1:00 pm at the Hinton Trail Hall, Elmworth, AB. Pauline Haycock will officiate. Interment will follow in the Halcourt Cemetery.
For friend's so wishing donations may be made in memory of Len to the Hinton Trail Hall Community Association, RR1, Site 7, Box 36, Beaverlodge, AB T0H0C0, or to STARS Air Ambulance, 1441 Aviation Park NE, Box 570, Calgary, AB T2E8M7.
You are loved, you are missed, you are remembered.
Very Respectfully Beaverlodge Funeral Service