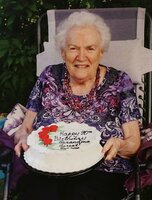 Margaret Wenzel
Margaret Wenzel, a resident of Grande Prairie, Alberta, formerly of Beaverlodge, passed away on Monday, January 1, 2018 in Grande Prairie at the incredible age of 98 years.
Margaret Jean Erskine was born in Esther, Alberta, the youngest of four children to Jesse and Nellie (nee Bair) on September 27, 1919. As well as being raised in Esther, Margaret also grew up in Cereal, Alberta. She met her husband, Clarence Wenzel, while he was working on her brother, George's farm. Margaret and Clarence soon married and settled in the Rio Grande area of Beaverlodge, Alberta. The two purchased land where they made their family farm and welcomed four kids into the world; Geniece, Lloyd, Elva, and Alan. Margaret and Clarence also raised adopted daughter, Margie and granddaughter Rhonda.
Not your average farmer's wife, Margaret didn't shy away from the tough farming duties and was known in her time to even run a tractor. She was an incredibly hardworking woman.
In her prime Margaret was an avid reader, country music lover, gardener, card player, and baker. Her garden was a great pride that she spent hours tending to. A visit to Margaret's was always filled with the best home cooked meals and a large variety of the world's greatest desserts. Winters while Clarence was still alive were often spent at neighbors' homes playing card games. Later in life, as she started to lose her eyesight she would still play hours of Solitaire on end, in which she insisted because she was going blind that she wasn't cheating when cards would be switched around for a win. Music was always played at a louder volume and she could often be seen tapping her foot to the beat of her favourite songs.
Margaret was also known for her love of animals. She had many loved pets in her lifetime which she always considered a part of the family. Nothing relaxed her more than having a dog at her feet that she could pet for hours on end or a cat curled up in her arms on the kitchen table.
Margaret will be deeply missed by daughter-in-law Faye (and family), Elva (Leonard and family), Alan (Sherri and family), Rhonda (and family), and Margie (Bryan and family), along with numerous grandchildren, great grandchildren, and great-great grandchildren.
Margaret was predeceased by her husband just short of fifty years, Clarence Wenzel, infant daughter Geniece, son Lloyd, parents Nellie and Jesse, all three of her siblings, George, Joe, and Jim, all of Clarence's siblings, and many family friends from the Rio Grande area.
With respect to Margaret's wishes, no formal funeral service will be held. Her family and close friends will gather to celebrate her life in the Spring. Interment will be held at a later date in the Halcourt Cemetery.
For friends so wishing, donations may be made in memory of Margaret to PARDS, 71009 Range Road 55, Count of Grande Prairie #1, AB T8W5A7, or on their website at www.pards.ca.
Very Respectfully Beaverlodge Funeral Service