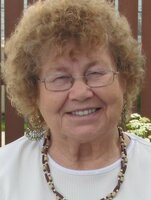 Loretta Schlemmer
Loretta Schlemmer, a long time resident of Hythe, Alberta passed away on Friday, August 11, 2017 in the Beaverlodge Hospital at the age of 61 years.
Loretta's passing is going to leave a big hole in the life of her two remaining brothers, and the friends and neighbors who knew her. She loved all animals and had many pets over the years. She loved knitting and needle point and most crafts she loved to give others. Loretta also loved canning most fruits and vegetables, reading was a favorite pastime for her.
Loretta was predeceased by one brother and one sister, her father Alfred and mother Geraldine. She leaves behind two brothers, Danny and Mike, along with many nieces and nephews in the United States.
Loretta's family would like to thank Dr. Armstrong, the Grande Prairie Cancer Centre staff and doctors, and especially to the staff of the Beaverlodge Hospital for the great care of Loretta in her final days. Thank you very much.
A Funeral Service was held on Tuesday, August 22, 2017 at 11:00 AM at St. Mary's Catholic Church, Beaverlodge, AB. Fr. Sylvanus Omali officiated. Interment was held in the Hythe Cemetery.
For friends so wishing, donations may be made in memory of Loretta to the South Peace Centennial Museum, PO Box 493 Beaverlodge, AB T0H0C0.
Very Respectfully Beaverlodge Funeral Service